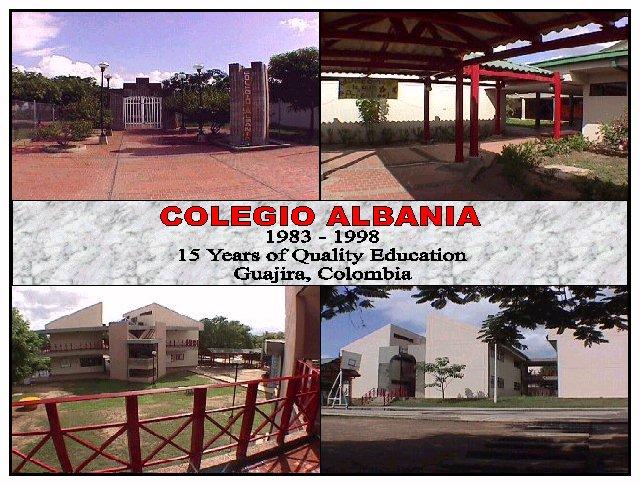 ---
---
COLEGIO ALBANIA WELCOME GUIDE
Welcome! You have arrived at the Colegio Albania home page. We are excited to have you with us and look forward to telling you about our community and school. Now, sit back and relax as you read the next few pages and get ready for a trip to Colombia...
WHERE ARE WE?
Colegio Albania is located in the community of Mushaisa in La Guajira, Colombia, about three hours by air from Miami, Florida.
Guajira is a state in the northeastern part of the country. It forms a peninsula surrounded by the Caribbean Sea in the Atlantic Ocean. The capital city of the Guajira is Riohacha.
The climate in Guajira is that of a sub-tropical desert. Temperatures range between 30 and 40 degrees centigrade. There are two short rainy seasons in the year: April through June and September through November. This is one of the driest and hottest states of Colombia.
Mushaisa (moo-shy-sah), a native Indian word meaning "Land of Coal", is situated about mid-point in this peninsula, about an hour from the nearest big city. It is a residents' camp forming part of the largest coal-mining complex in the Americas. The residential area is about 10 kilometers from the mine itself and its layout resembles that of a military base. The complex belongs to a partnership formed by two companies: Carbocol, representing the Colombian government and Intercor, a subsidiary of the Exxon Corporation.
Located about 10 kilometers from the mine itself, our community is quite picturesque, nestled within a range of low-level mountains and surrounded by the majestic beauty of the desert landscape.
Mushaisa has a population of about 3,000. Most of the residents are Colombian, coming from different regions of the country. There are a few foreign families as well, mostly American.
HOW DO WE LIVE?
Our community is very small, so everything is within walking distance. Most people ride bikes or walk, rather than using a car. Mushaisa has a friendly commercial center built around an outdoor plaza. Located down the street from the school, it has a supermarket, a travel agency, a drugstore, a bowling alley, a restaurant and an ice cream parlor, which is especially appreciated in our hot climate!
Other features in the camp are a post office, bank, a small hotel and other business services. We have three modern medical facilities. Our residents make frequent use of tennis courts, soccer and baseball fields, two swimming pools (one Olympic-sized), racquet ball courts, a complete gym and even a small golf course.
Within the community we have bus and taxi service and for air travel, there is a small private airport as well.
OUR SCHOOL
Colegio Albania is a private school, founded in 1983. Our main goal is to provide children of Intercor personnel the highest quality education in both English and Spanish. Enrollment is currently 745, including students from Preschool through High School. Standards are high for academic, intellectual, personal and social development, and most of our students go on to attend colleges and universities in Colombia and other countries.
The school campus is made up of eight air-conditioned buildings and a series of connecting pathways. Tropical plants fill the grounds lending shade and beauty to the surroundings: tall palm trees, acacias with their wide green branches and bright-red blossoms, flowering cactus... all these and more greet us each day and refresh our tropical desert environment.
OUR SCHOOL DAY
School begins early at Colegio Albania, 7:00 am, and both students and teachers work hard throughout the day. At 12:15, everyone goes home for lunch, returning at 1:30. Classes end at 3:05 pm. Every teacher stays in the classroom until 4:05 to offer extra help and most students take advantage of this at least once a week. Physical Education classes for older students take place in the afternoon from 4:15 to 5:45 twice a week. In addition, students stay until 6:00 at least two more days a week for extracurricular sports activities.
Although our days are long, so are our vacations! Students have a month off at Christmas, two weeks at Easter and almost two months in the summer. Most students and teachers use this time to travel and spend time with family and friends.
SPECIAL ACTIVITIES
Colegio Albania is very proud of our school music program. We have a symphonic orchestra, a pre-orchestra, two tropical bands and several rock groups. Our student musicians attend rehearsals until 8:00 pm two nights a week, and they really understand the importance of hard work and self-discipine. You can tell by listening to their first CD, "Musica Sobre Rieles".
Our students represent Colegio Albania in many different kinds of interscholastic activities and events throughout the school year, such as math competitions, national science fairs, Model United Nations, sporting events, Odyssey of the Mind and writing contests, to name a few.
This year Colegio Albania is celebrating our 15th anniversary. We'll be celebrating throughout the year with a series of events. Our motto for the year is:
COLEGIO ALBANIA: 15 YEARS OF QUALITY EDUCATION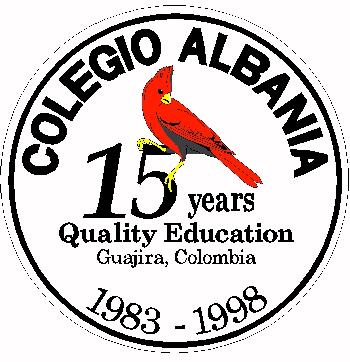 ---
Mentor

We are pleased to announce that our mentor is






Universidad del Norte
Dept. of Communication & Media


Back to top
---
Area


Colombia
Colombian Data


( From CIA World FactBook )







A Country Study
( from U.S. Library of Congress )



Colombian Photo Gallery
Photography Credit: Larry Crain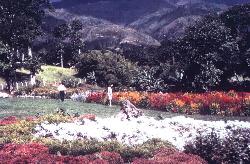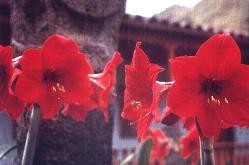 Colombia is a country of beautiful flowers...the most spectacular is Colombia's national flower: the orchid. Orchids cling to tile roofs, some grow on trees and rocks and other varieties grow in lakes and ponds.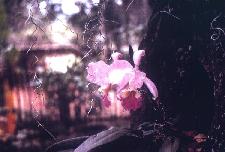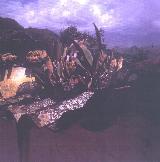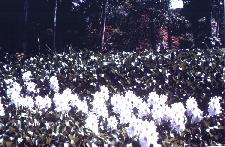 According to an article "The Exquisite Orchids" in National Geographic, vol. 139, no. 4, April 1971: "...orchids with perhaps 35,000 species, comprise the largest family of flowering plants, nearly a seventh of all those on earth...the variation of form and color among orchids is hard to believe even when seen. Some of them mimic bees, wasps, butterflies or moths; some resemble swans or doves; others look like frogs or lizards, or miniature men, some even display perfectly-formed Arabic numerals...The smallest plant could fit in a thimble, and the largest - a vine - reaches a hundred feet. In between red, orange, yellow, green, purple, brown, white and, rarely, blue."







Bogotá, the capitol of Colombia, is perched 8,660 feet above sea level on a plateau in the Andes mountain chain. Skyscrapers sprout amid government buildings and historical churches. A ride on a cable car offers a spectacular view of the city,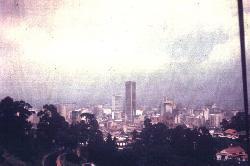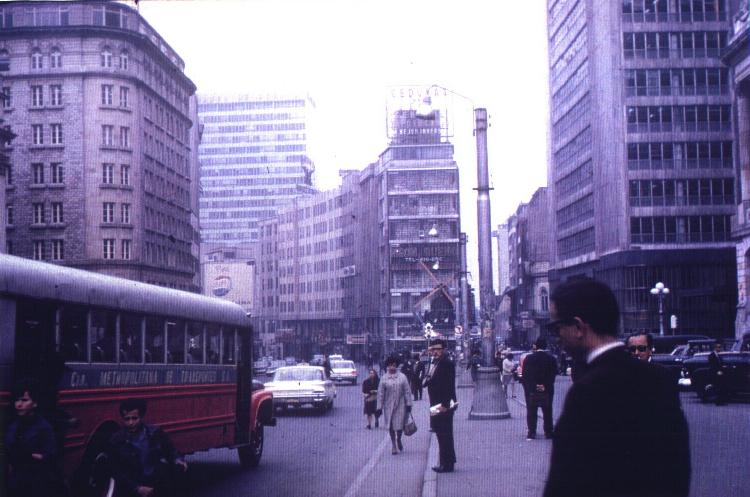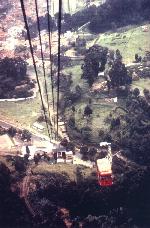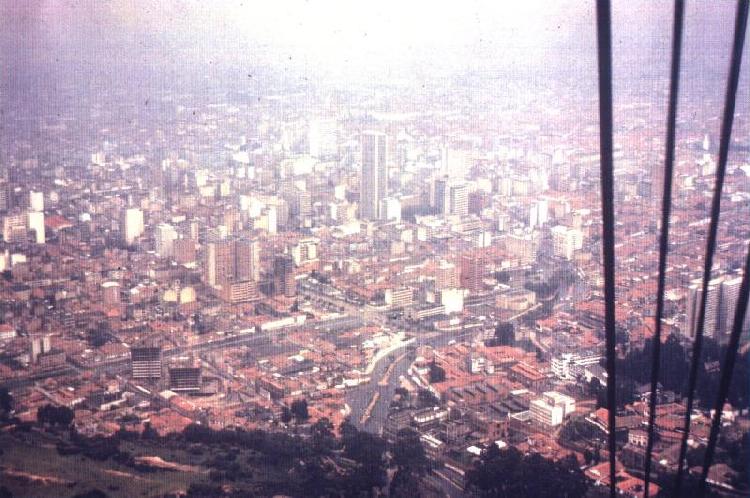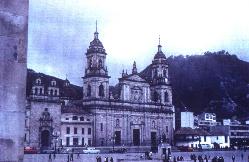 In Bogotá, one of the most exciting places to visit is the Banco de la Republica's Gold Museum, which houses the world's largest (1,796 carats) unpolished emerald and the magnificent exhibit of 35,000 objects of pre-Colombian art. In total darkness, visitors enter the bank vault exhibit area. Slowly lights begin to illuminate displays of gold artifacts, which cover both ceiling and walls. The final full-light impact of this golden splendor overwhelms every visitor and each one begins to understand the lure of the Spanish Dream of El Dorado.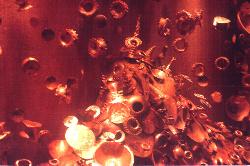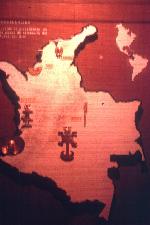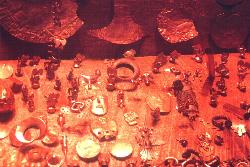 "The dream if a fantastic city of gold shimmering just over the horizon spurred the Spanish to conquer a continent. The fantasy grew out of a solemn ritual of Colombia's Chibcha Indians; an ancient artisan depicted part of the ceremony in this seven-in-long gold raft.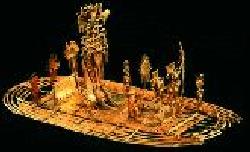 The Chibchas dusted each new king with powdered gold and cloaked him with decorations. Attendants, facing away from the royal person, rowed him into Lake Guatavita, near Bogotá. There the sovereign submerged momentarily, washing away his bright covering as a sacrifice to the god of the lake...As men retold the story, this El Dorado, or Gilded One, 'resplendent as the beaming sun,' came to symbolize a metropolis of infinite riches. ("Colombia", National Geographic, vol. 138: 234-273, August 1970)
A few miles north of Bogotá is the salt mine of Zipaquirá. This mine houses the enormous Salt Cathedral, an underground church which can seat 10,000 visitors. Following ten years of construction, this cathedral was dedicated in 1954. The cathedral roof is 23 meters above the floor and the main altar is a block of salt weighing 18 tons. The immense black hallways of salt gleaming under strategically placed lights are most impressive and a little eerie.

| | | |
| --- | --- | --- |
| Entrance (above) | | salt Nativity (above) |

click pic to enlarge

Colombian Photography Credit: Larry Crain
---
Museums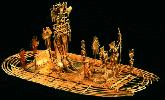 Colombia's Gold Museum
Back to top
---
Newspaper



EL TIEMPO

EL ESPECTADOR
Back to top
---
Weather

Current area Weather

Current Doppler Radar Image

Back to top
---
Project Support

A Special IAE Thank You to:


Betty Scalise, Director of Secondary Education, Colegio Karl C. Parrish
(Assistance with selection of pilot school in Colombia)


Back to top