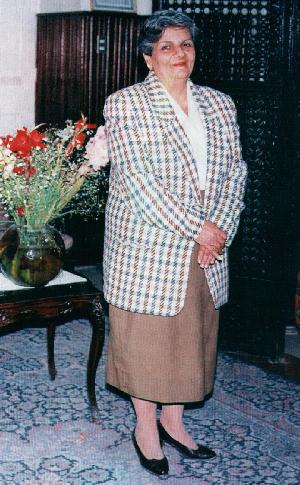 WELCOME ABOARD
MRS. SAMIA NIMR, PRINCIPAL OF R.C.G.


The 1997, yearbook is proudly dedicated to Mrs. Samia Aziz Nimr, the new principal of Ramses College For Girls.



Mrs. Samia Nimr. being the new principal of R.C.G. would like to introduce herself in a few words: I was born in Beni-Mazar, a town in Upper Egypt where I got my Primary Certificate.
For my Secondary education, I came to Cairo. I graduated from the American Mission School at Ezbekio, "A.M.E.", the mother of Ramses College For Girls.



My University Education includes a B.A. from the Faculty of Arts (English Section) from Cairo University, a General Diploma in Education from Ain Shams University, nineteen years later, a special Diploma from Menia University. Later I completed a teacher trainer's course at Reading University in England, as a guest of the British Council. Twice I attended advanced educational management courses in the United States with Fullbright Commission. After eight years as Supervisor-General of Educational Directorate of Menlo Governorate, I was requested by the R.C.G. School Board to consider the position of Principal. I was pleased to accept it as the school's reputation is excellent and I am proud to work with the students, teachers and staff of R.C.G.